Our family-run guesthouse, Irlingerhof, is situated in the heart of the magnificent Mondseeland area, between lakes Irrsee and Mondsee. We will welcome you with warm hospitality, to make your holiday a very special experience:
relaxation for those who are seeking peace and quiet, no matter if single or couple, a diversity of leisure activities for those who want to be active, all of this, tailored to the various needs of families and Business travelers will also find peace here and relax far from the stress of their work.
The combination of warm hospitality and the superb landscape, along with the cultural variety the region has to offer will ensure that your stay remains memorable.
At the Irlingerhof, all our guests find time to enjoy themselves and rest both in summer and in winter.
Book directly through our website, by email or telephone and take advantage of the best price!
included services:
WIFI
Parking area
Swimming pool open! (April-October)
Fitness Center – Gym
Wellness area
Take advantage of the price in case of direct bookings on our homepage, by e-mail or by phone!
Our cancellation conditions - ADAPTED FOR YOU
All reservations can be canceled free of charge up to 30 days before arrival without giving a reason.
In the case of cancellation within the penultimate week before arrival, the cancellation fee is 70% of the booking value and within the last 7 days before arrival we charge 90% of the booking value.
We also recommend taking out travel insurance!
If you book directly, this is automatically offered by us.
"The true art of living is to see the wonderful in everyday life. " - Pearl S. Buck
In any case we are looking forward to welcome you!
Family Stabauer & Team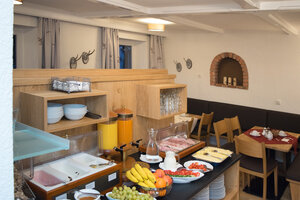 At breakfast a lavish buffet, with many homemade natural products and regional specialties will ensure an enjoyable start to the day.
We offer to our guests the best: home-made jams, greens and fruits we have grown ourselves, vegetables and organic eggs from local suppliers, so that they can start each day of their holiday feeling fit and full of vitality.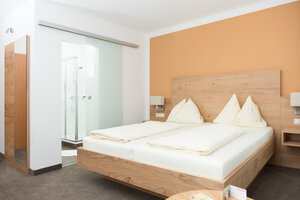 Our bedrooms and suites are relaxing spaces to spend time and sleep.
We have the right room for every type of guest!
All the rooms and suites are modernly equipped and have been furnished with great attention to details.
They comprise winter garden/balcony, bathtub/shower, WC, hairdryer, HD flat screen TV and radio, minibar, private safe in the room and wifi.
Our guests can relax in a bright and friendly atmosphere with a cozy ambiance, enjoy the wonderful view, and appreciate their holidays all the more!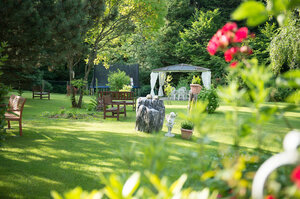 A quiet environment for a restful holiday:
Our spacious park with its pretty, romantic touches and abundance of private seating areas invites those of you who are seeking to recharge your batteries and indulge your body and soul.
Here, guests can listen to the sound of the little babbling brook and enjoy peace and quiet.
The nearby forest enhances the beauty of the location, making it a real oasis of peace.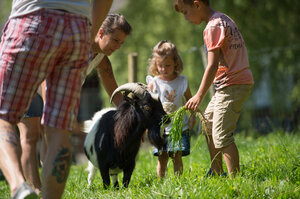 For active holiday's enthusiasts there is a large range of sporting activities, including quiet walking trails and extensive cycle paths in the surrounding area.
Golfers can improve their handicap in the golf courses located nearby. And if you want to discover the beautiful Mondseeland from above, take a balloon ride right from our doorstep.
Our guesthouse proposes also various pastimes for the whole family. Whether it's at the playground, in the sandpit, on the trampoline, or playing table tennis and table football or darts.
Also young and less young will love patting our little pigmy goats.
Families will have great fun swimming in the nearby lakes or in our own swimming pool (may - september).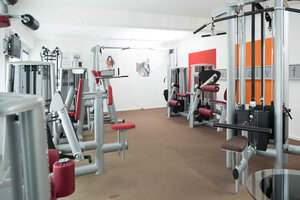 Health, sport and fitness are priorities at the Irlingerhof!
There is a lot you can do to improve your own well-being, and our personal trainer, Wolfgang Stabauer will naturally be happy to help.
Our motto is: "Those who live healthy and dynamically will live longer", and so we emphasize the importance of fitness, exercise, relaxation, diet and, in particular, the enjoyment of sport.
Wolfgang Stabauer's job is to help you reach your goals when it comes to sports and health.
As part of your "Personal Training", he will be happy to put together a specially tailored training program to suit your own wishes and requirements.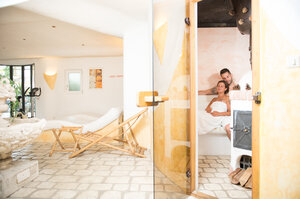 Our top priority for our guests at the Irlingerhof is ensuring that they have a pleasant stay as such the physical well-being of our visitors is particularly important to us.
It includes the possibility for guests to relax, find peace and recharge their batteries, in the guesthouse's own spa area.
Your body and soul will be well looked after with heat therapy loungers, color light therapy during a visit to the infrared heat cabin or the organic herbal steam bath.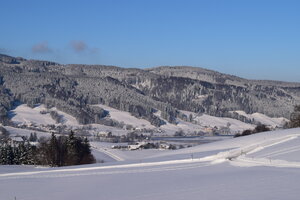 When the first snow falls, the Mondseeland turns into a true winter paradise. The naturally majestic landscape becomes a winter wonderland during the cold season.
Our guests can benefit from the various possibilities that this magnificent environment provides. Either enjoy the nearby ski areas in the Salzkammergut with kilometers of tracks for skiers and snowboarders.
Or explore the snowy and hilly landscape that offers easy touring or cross-country skiing, snowshoeing, sledding and horse carriage rides. Or simply find the opportunity to escape from everyday's life with a romantic walk in this sumptuous landscape.
Before Christmas you can linger around the charming Advent markets in the typical villages of the Salzburgerland, listen to the sounds of the Christmas music, take a stroll through the traditional crafts exhibitions or warm up with a cup of hot "Glühwein".
And when the time comes to welcome the New Year, we offer our guests special celebrations. At Pension Irlingerhof, all your senses will reveal in the Austrian winter...